Champion for a Just Society and a Catalyst for Change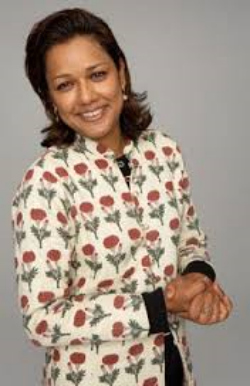 Anika Rahman believes that individuals and organizations can inspire movements that can benefit both the planet and its people by advancing rights for all, promoting a just society, protecting the environment, and fostering sustainable development.
With these core beliefs, she has dedicated her life to championing human rights, women's and children's rights, reproductive rights, global economic development, and social justice.
Throughout her career, with leadership positions at The Center for Reproductive Rights, Friends of UNFPA (United Nations Population Fund), the Ms. Foundation for Women, the Rainforest Alliance, and NRDC, Anika has been a voice—and a catalyst—for change. This has also been evident when she has served on boards such as those of the Bangladesh International Tutorial (BIT) School and WomanKind. A lifetime member of the Council on Foreign Relations, Anika has received the Women's eNews "21 Leaders for the 21st Century" award and Columbia Law School's Lawrence A. Wien Prize for Social Responsibility.
Anika has spoken on the topics of leadership, public service, non-profit management, women's rights, reproductive rights, and sustainable development at venues ranging from the United Nations to universities and international conferences. In addition, her writings have been featured in the New York Times, Crain's New York Business, Rewire, CNN.com, and the Huffington Post. She is also the author of Female Genital Mutilation: A Guide to Laws and Policies Worldwide, which notably placed female genital mutilation within a human rights framework. As a series editor, she directed the development and publication of Women of the World: Laws and Policies Affecting Their Reproductive Lives.
Non-Profit Leader, Human Rights Advocate, People-Centered Strategist
After graduating from Princeton University and Columbia Law School, Anika practiced law at Cleary, Gottlieb, Steen & Hamilton. She then became one of several founders of The Center for Reproductive Rights, which is today one of the largest legal organizations in the world focused on rights for women. An integral part of the movement that established a framework for reproductive rights as human rights, she was also one of the leaders of the "Women's Rights Are Human Rights" global advocacy coalition and campaign, which resulted in the recognition of the centrality of women's rights to human rights.
As President & CEO of Friends of the United Nations Population Fund (UNFPA), Anika led the organization during a time when UNFPA was defunded by the U.S. government. She successfully steered it to greater visibility until funding for UNFPA—the United Nations agency whose mission is to deliver a world where every pregnancy is wanted, every childbirth is safe, and every young person's potential is fulfilled—was reinstated by the Obama administration in one of the president's first official acts.
Recruited by the Ms. Foundation for Women as CEO, she moved this historic U.S. women's foundation toward a vision that would enable it to combine grantmaking with strengthening its capacity as a platform for women's issues. In addition, she helped enhance the financial stability of the organization, and led a rebranding and strategic planning process. More recently, Anika was Vice President of Development at the Rainforest Alliance, an international non-profit focused on conserving biodiversity and ensuring sustainable livelihoods. She also served as a member of its global management team.
Currently Anika is the Chief Board Relations Officer for the Natural Resources Defense Council (NRDC), where she works to help safeguard the Earth—its people, its plants and animals, and the natural systems on which all life depends. In this role Anika manages the Board of Trustees by acting as staff liaison and providing advice and support to NRDC's president. In this capacity she is a member of the organization's executive team.
Throughout her career, Anika has provided executive leadership and management consulting support to a variety of non-profits and to the UNFPA, where she helped draft a model reproductive health law in sub-Saharan Africa. At Equality Now, an international women's rights organization, she consulted on a pilot grantmaking program focused on empowering young girls globally. Recently Anika has aided the New York Immigration Coalition in enhancing internal and management effectiveness.
Always a Trailblazer
Born to an iconoclastic Muslim family in Bangladesh, Anika was raised with a deep-seated belief in public service and education. At an early age, she became acutely aware of the societal limitations placed on women and girls, and the extreme income inequalities that exist in the world. Anika came to the United States at the age of 18, and now lives in New York City. She speaks English, Bengali, Hindi, Urdu, and French.
"I belong to a rare category of women–an immigrant, a lawyer, a Muslim, and a progressive–who have had the privilege of pursuing their idealism in their careers, and of serving the cause of justice by advancing the concerns of marginalized populations."